Suffolk County Historical Society Exhibit – Call for entries:
January 17, 2014 we will be holding our fundraising gala with the opening of the exhibition More Than Warmth: Historic Quilts of Suffolk County. We would like to include quilters' art through a juried show. We would have their work on display in a separate exhibition New Traditions: Contemporary Quilts to show that the tradition of quilting is thriving. A reception for these exhibitions will be held on Jaunary 21, 2014, 2:00-4:00 (exhibit opens January 18). I would like to extend an open call to your quilters to have their work displayed in our museum. As this will be an exhibition of historic quilts, we are looking for contemporary quilts as a counterpoint. NEW SUBMISSION DEADLINE: January 10, 2014
click here for mroe info: Riverhead SCHS-Quilt competiton
"White Christmas by the Bay", the Bellport Garden Club's Holiday House Tour 
The ladies of the Bellport Garden Club are busy preparing for their biannual Christmas House Tour which will take place on Sunday, December 15th from 12 Noon to 4 pm.  A restored late Victorian waterfront home in Bellport will be the site of the tour. The house has magnificent views of the Great South Bay and Bellport Harbor, and will be artfully decorated for the holidays by members of the garden club.  All holiday decorations in the house will be for sale.
The exact location of the house will not be disclosed until the day of the tour. However, tickets may be purchased in advance at the following shops in Bellport Village:  It's Only Natural, Old Purchase Properties, Eileen Green Realty and The Bellport Restaurant.  On the day of the event, ticket holders must go to the Bellport-Brookhaven Historical Society's Museum Shop (12 Bell St., Bellport) to get directions to the house. Tickets for the tour may be purchased there that day as well.
 After touring this magnificent home, guests may browse the Holiday Boutique to purchase greens, decorations, gifts and delectables.  Complimentary refreshments homemade by the club's members will be served for guests' enjoyment.
 In conjunction with the Christmas House Tour, a raffle is being held for several wonderful prizes.  The fabulous first prize is a 5 night stay (for 2 or 3) at a "mews house" in Central London.  (A "mews house" is a fashionable residence in London, formerly the upper story of a carriage house.)  Second prize is dinner for two at The Bellport and two tickets to any performance at the Gateway Playhouse.  Third prize is a Holiday Gift Special at the Spa at Bellport (classic facial, manicure and pedicure).  Raffle tickets may be purchased at the previously mentioned locations. 
 Mark your calendars. You don't want to miss this one!  For more information regarding this event, please call 631-286-3891. 
East End Arts Council HOLIDAY GIFT BOUTIQUE
Opening Reception
Saturday, November 16, 2013 12:00 pm – 5:00 pm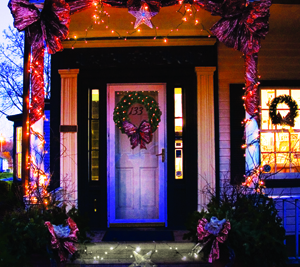 Location: East End Arts Gallery, 133 E. Main Street, Riverhead NY 11901
Description: Unique, Artful, One-of-a-Kind Gifts, Handmade by Local Artists! Perfect for Holiday Gifts Hundreds of gorgeous hand-made holiday ornaments, greeting cards, one-of-a-kind jewelry, wearables, ceramics and crafts will fill East End Arts' three galleries from top to bottom as visitors from all over the Island come to buy exclusive and artful gifts, all created by local artists and artisans. Come find the perfect gifts for holiday giving, before they sell out!
Opening Reception: Saturday, November 16, 12 – 5 PM Don't miss this opportunity to find the perfect gifts for holiday giving, before they sell out! Meet the Artists ~ Refreshments will be served
SHOP DATES: November 15 – December 22, 2013 OPEN on Black Friday (November 29) & Small Business Saturday (November 30) HOURS: Tuesday – Friday, 12 – 6 PM | Saturday 10 AM – 4 PM | Sunday 12 – 4 PM | Closed Monday
QCNYS Challenge,

Stitching New York – A Quilted Perspective
The QCNYS Board is pleased to invite you to participate in a themed challenge. In keeping with the goals of the Travel Club the quilts resulting from the challenge will be made available to member guilds for exhibition at quilt shows in 2013 and 2014. Guilds requesting the exhibit may request the entire exhibit or a subset of the exhibit. Participation is limited to those who belong to QCNYS in any membership category – Member Guilds, Individuals, Non-profit or Business.  
Title: Stitching New York – A Quilted Perspective
Theme: Explore and celebrate the diversity of New York State
Categories: Traditional Modern/Contemporary Art
Eligibility: Entrants may come from any QCNYS membership category – Guild, Non-Profit, Individual or Business member
Requirements:
Must be a minimum of three joined layers

Minimum perimeter = 96″

Maximum perimeter = 180

4" minimum Sleeve must be securely applied to back of quilt

Label with the following information must be securely applied to bottom: Title of piece, Name and Address of quilter, Title of exhibit

Challenge Entry Form must accompany completed quilt
Restrictions:
No three-dimensional items accepted (shipping concerns)

One entry per participant

Must be received by deadline date of January 31, 2014
Fees: No entry fees. Return shipping shall be the responsibility of the quilt artist.
Insurance: QCNYS shall provide insurance from delivery to return.
Judging: Shall be done by a panel of independent judges, Cash and ribbon prizes will be awarded
Contacts: Elaine Ross elainejr@rochester.rr.com  and Val Schultz vjschultz@frontiernet.net